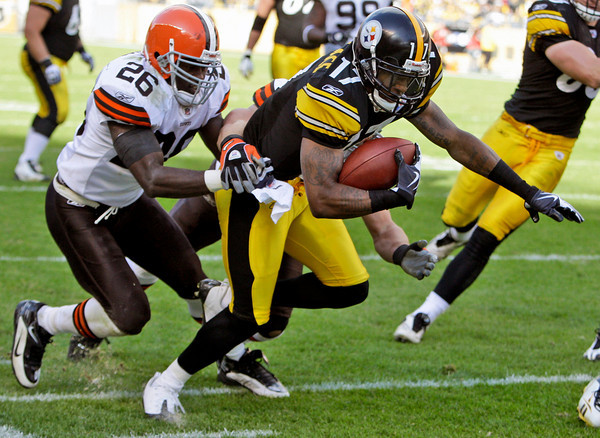 One of the biggest questions heading into the NFL Free Agency period this offseason was what would happen between the Pittsburgh Steelers and Mike Wallace, even though we have our answer and know he won't be going anywhere this season, there are still plenty of questions that remain, here is a quick review of the situation:
First, the Steelers tendered Wallace as a restricted free agent, as opposed to the franchise tag, which would have paid him $9.5 million compared to the $2.7 million he will earn if he signs the restricted tender offer.
Some thought it risky for Pittsburgh to use the restricted tender instead of the franchise tag, particularly because there is such a big difference between the two designations, in that the franchise tag brings pack two first-round picks as compensation compared to just one first rounder if another team signed Wallace away as a restricted free agent and the Steelers chose not to match.
There was rampant speculation that teams such as the San Francisco 49ers, Cleveland Browns, New England Patriots and even the Cincinnati Bengals had interest and would be willing to sacrifice a first-round pick  as well as the large amount on bonus money required in order to obtain Wallace. Yet, no offer sheets ever came and the Steelers decision was justified. However, that brings them no closer to resolving the tension between the organization and Wallace or ensuring that he shows up for training camp.
The Steelers also are not any closer to signing him to a long-term extension, which they say has been their intent all along.
Unfortunately, Wallace is not making that deal an easy one to make at the moment. Recently, he has come out stating that he wants to get paid in the same range as star receivers Larry Fitzgerald of the Arizona Cardinals and Calvin Johnson of the Detroit Lions. Thus, he's asking for somewhere in the neighborhood of $18 million dollars a year, which is about what Johnson earns after agreeing to a 7-year $132 million extension with Detroit back in March.
Wallace needs to get a serious grip on reality if the thinks he is going to get that kind of jack. It simply is not going to happen, especially in Pittsburgh. Drew Brees was barely getting offered that much by the Saints, if Drew Brees is barely worth $18 million, Wallace definitely is not.
Yet, even though he got little interest on the restricted market, Wallace is stil hinting to the Steelers that he may hold out from training camp, as sources within the organization revealed to ESPN.com's Jason Hensley, that Wallace said will not sign his restricted free agent tender, "Until he has to."
This will setup a very interesting mini-showdown between Steelers management and Wallace, because if Wallace waits too long to sign the tender, Pittsburgh can reduce the offer significantly, similar to what the Patriots did to Logan Mankins two years ago.
Regardless of whether Wallace shows up on time or not, Steelers training camp is going to be well worth monitoring.